We are so excited to join several wonderful Montessori bloggers in the 15 Day of Montessori for the Holidays blog hop! Please enjoy these fun ideas on how to use practical life for the holidays.
At the bottom of this post please find the link to tomorrows featured blog post. You can find links to all the posts in the series on Montessori Bloggers Network 15 Days of Montessori for the Holidays page here!
Practical Life for the Holidays
The Christmas season is the perfect time to work on practical life skill with children. Practical life works bring a real sense of purpose to children as well as strengthening their fine motor skills.
Here are several of our favorite Christmas themed activities to help your child with their practical life skills!
Threads in a great way to refine hand eye coordination. Rachael of Racheous used Christmas themed pipe cleaners and a small colander to set up this quick activity for her kids.
Cooking is a VERY fun practical life skill kids love! Last year we put together some amazing Kid Friendly Christmas recipes to share. We hope you will find inspiration there!
Strengthen little hands with this fun Christmas activity from Montessori Work. The fragrance this work fill the room with is a great sensorial work too!
How much would it be to practice swaddling baby Jesus?!? Check out this great post over at Every Star Is Different for other great Christmas themed work.
Super fun practical life idea to help kids with buttoning! There are other fun Christmas themed works on Counting Coconuts too.
Another great way to celebrate Christmas by caring for baby Jesus on Growing Hands on Kids!
Decorating the Christmas tree can be a lot of fun for kids. Here's a great idea on a practical life tree decorating tray. The original post in not in English, so we linked to Living Montessori Now where she describes the activity for us!
Flower arranging is a wonderful practical life skill to practice this Christmas season. Check out all the Practical Life Activities to Prepare for Christmas!
You'll want to pick up a couple utensils to be ready for all your practical life work this holiday season. Check out Mama's Happy Hive's post for a very helpful list!
Gingerbread decorating is a great hands on fine motor work to help your child with their hand strength. Enjoy this before your child helps you decorate your gingerbread cookies!
Speaking of gingerbread cookies! Be inspired to let your kids in the kitchen with you this year for a fun practical life cooking skill lesson and make your own gingerbread cookies.
Stringing popcorn is a fun way to add practical life work to the season. Add in the book If You Take a Mouse to the Movies and you have a great winter afternoon activity ready to go!
Making gifts is a wonderful lesson in grace and courtesy! Find this fun ornament recipe on Study At Home Mama.
Here is our post from last year with several free printables for a great discussion on grace and courtesy this Christmas season.
An inviting transfer work activity from Every Star Is Different.  Use bells and tongs for satisfying music along with this practical life activity.
15 Days of Montessori for the Holidays Blog Hop
We are excited to join many wonderful Montessori bloggers in the 15 Days of Montessori for the Holidays blog hop.  This blog hop runs from October 25th through November 10th. Please be sure to check out all the participating blogs listed below and follow the host, Montessori Bloggers Network, on Pinterest for all the updated posts!
Check out the next post tomorrow on Montessori Unfiltered!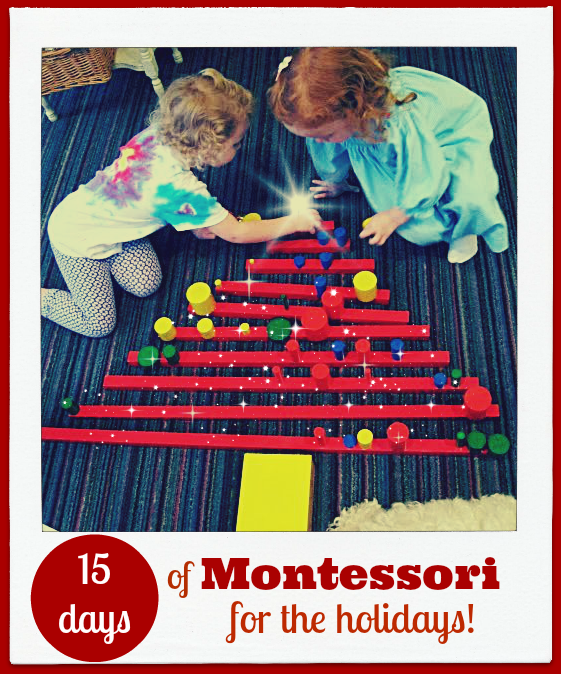 Photo Credit to Montessori Messy
The Montessori Notebook ~ Montessori By Mom
When Hippos Talk ~ Little Fingers at Work ~ At Kid Level
Magical Movement Company ~ Christian Montessori Network
Montessori Unfiltered ~ Mama's Happy Hive ~ Montessori Nature
Welcome to Mommyhood ~ Our Montessori Home
I Believe in Montessori ~ Living Montessori Now
The Kavanaugh Report ~ The Natural Homeschool